This summer IFCM is launching a new international youth choir - the Shanghai Cooperation Organisation Countries' Youth Choir which will rehearse and perform in Hohhot, Inner Mongolia, and Beijing, China, June 25-July 7, 2019. Comprised of singers and instrumentalists from the 18 countries of the Shanghai Cooperation Organisation, the youth choir of 54 singers, ages 19-35, will be conducted by André de Quadros (India-USA) and Maria Goundorina (Russia-Sweden).
The Shanghai Cooperation Organisation (SCO) was established in 2001 as a "multilateral association to ensure security and maintain stability across the vast Eurasian region, join forces to counteract emerging challenges and threats, and enhance trade as well as cultural and humanitarian cooperation". It is within the context of cultural dialogue that Emily Kuo, IFCM President, envisioned a youth choir as the ultimate 'instrument' for developing mutual trust, friendship, and respect. Using the model of the World Youth Choir, for which IFCM is one of the three founding patrons, IFCM adds this project choir to the growing list of new and innovative cooperations.
The rich historical and cultural legacy of the peoples of SCO countries is embodied in the diverse collective singing traditions of these 18 countries. The SCO network consists of the eight member states (Kazakhstan, China, Russia, Kyrgyzstan, India, Pakistan, Tajikistan, Uzbekistan), the four observer states (Afghanistan, Belarus, Iran, Mongolia), and the six dialogue partners (Azerbaijan, Cambodia, Nepal, Armenia, Turkey and Sri Lanka). Imagine the vivid, wide-ranging palette of voices, textures, colours, scales, instruments, harmonies, rhythms, and musical styles.
The SCO Countries' Youth Choir project is intended to become a sustainable enterprise that will be held every year, in one of the countries in the SCO region, for the development of cooperation, peace, and understanding. What a perfect expression of IFCM's mission to promote choral singing as one of the most powerful unifying forces between nations.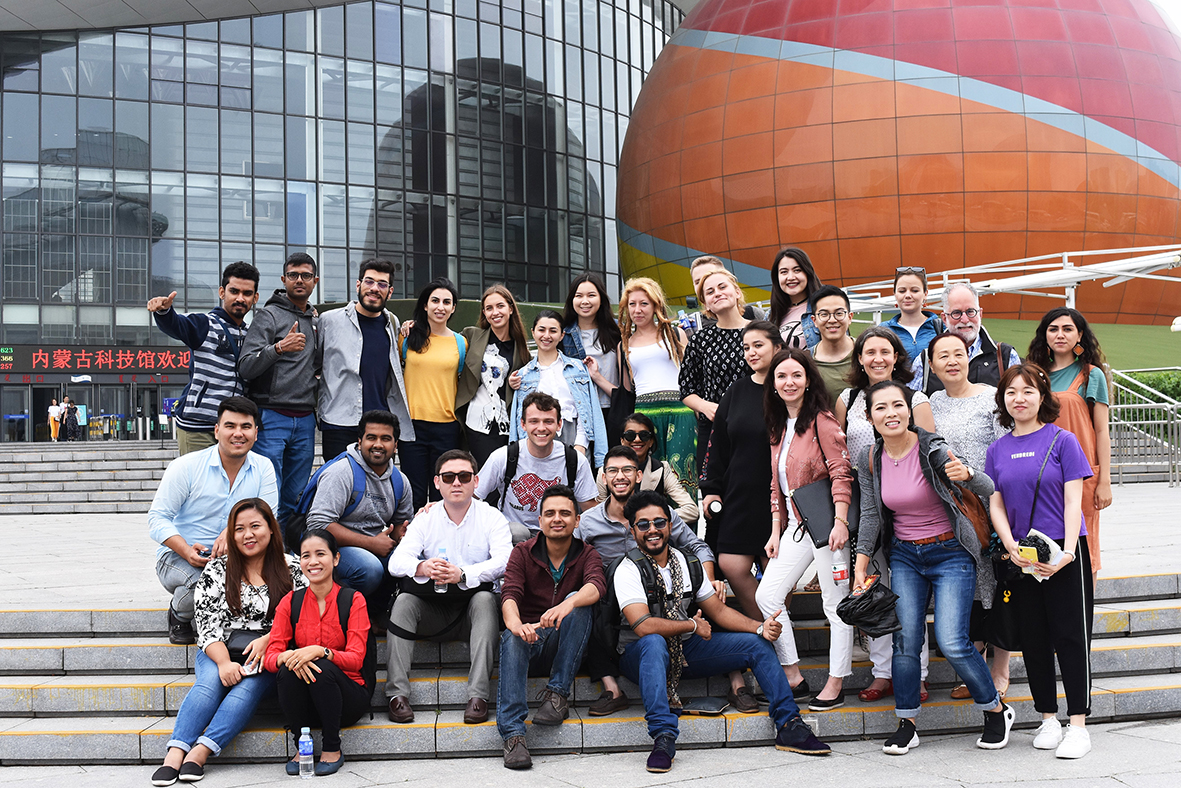 Repertoire for the SCOC Youth Choir includes works from 10 countries sung in 12 languages:
Mo Li Hua (Chen Yi). Country: China. Language: Mandarin
Naiman Sharag (Se Enkhbayar). Country: Inner Mongolia. Language: Mongolian
Zeregleent Gobi (Se Enkhbayar). Country: Inner Mongolia. Language: Mongolian
Uzh ti sad (arr. Sveshnikov). Country: Russia. Language: Russian
Kyй (С.Байтерековтікі). Country: Kazakhstan. Language: Kazakh
We are still alive (Olga Podgaiskaja). Country: Belarus. Language: English/Belarussian/Free
Dravidian Dithyramb (Victor Paranjoti). Country: India. vocal syllables
Zikr (Rahman, arr. Sperry). Country: India/Pakistan/Sri Lanka. Language: Urdu/Hindi/Arabic
Keras Charmi (Mardoian, Khalatbari). Country: Iran. Language: Farsi
Shabodda (N. Sharafiev). Country: Uzbekistan. Language: Uzbek
Entarisi Ala Benziyor (Muammer Sun). Country: Turkey. Language: Turkish
Ba Dilam Nazdik (traditional folk). Country: Afghanistan. Language: Dari
The road home (Stephen Paulus). International. Language: English
Adinu (arr. Abu-Khader, De Quadros). International. Language: Arabic
The tyger (Emil Raberg). International. Language: English
Visit the album of the Shanghai Cooperation Organisation Countries Youth Choir