Take it from the top...
Whether WSCM2020 is your first time, or you've been attending for decades, the Symposium is for you.
British choral conductor Janet Lincé is a comparatively recent convert to the joys of World Choral Symposia, having first attended in Barcelona in 2017.
"A small group of us British choral practitioners decided then and there that we were hooked," she says. "It was an amazing atmosphere generated by so many like-minded singers, conductors, choral gurus and just hundreds of keen music lovers."
She can't wait for the 2020 Symposium in Auckland. "I know it will offer yet more unbeatable choral experiences with the excitement of hearing dozens of fantastic choirs from numerous different cultures performing at their very best and introducing brilliant repertoire at every turn. I, for one, can't wait to see and hear some of the fabulous Kiwi choirs on their home turf! Auckland is also the obvious springboard for visiting some of the other great sights that make Aotearoa New Zealand so tantalising. Roll on July 2020," she says.
By contrast, Philip Brunelle, the artistic director and founder of VocalEssence (and past Vice President of IFCM) is a WSCM veteran. "I have been involved with the World Symposium for 30 years and I view it as one of the most important ways for every choral musician to get a view of our music worldwide," he says. "The fantastic choirs that are chosen, the amazing sessions that are organised, and the opportunities to engage with wonderful choral leaders from around the world - these are experiences that will only happen at an IFCM World Symposium. Don't miss it!"
WSCM2020 IN THE MEDIA
Image of John
WSCM2020 Artistic Director John Rosser was recently interviewed on Radio New Zealand, talking about the event, including the many esteemed presenters and choirs. Have a listen here.
BRITISH VOCAL ENSEMBLE VOCES8 TO PERFORM

In their Auckland debut, it has been announced that renowned British octet VOCES8 will perform two concerts for WSCM2020 delegates, each with unique repertoire.
Beloved the world over for their rich sound quality and charismatic style, the brilliant young ensemble, formed in 2003 by former choristers of Westminster Abbey Choir, performs an extensive repertory – including everything from 13th century choral works to their own jazz and pop arrangements – in its a cappella concerts and collaborations with leading orchestras, conductors and soloists.
With a catalogue of acclaimed recordings which have reached the top of the classical charts, VOCES8 brings faultless sound, versatility and diverse musical expression to every performance.
WSCM2020 Artistic Director John Rosser says, "Securing VOCES8 is a real coup for us. We can't wait to share this world-famous ensemble's wonderful sound and charismatic style with our colleagues, our choirs and the general public."
Tickets to the concerts, which take place on Sunday 12 and Tuesday 14 July, will be available to WSCM2020 delegates as part of their Symposium package.
"The singing of VOCES8 is impeccable in its quality of tone and balance. They bring a new dimension to the word 'ensemble' with meticulous timing and tuning." - Gramophone Magazine
MEET THE WSCM2020 CHOIRS
Introducing Gondwana
The renowned Australian children's choir Gondwana will speak (or rather, sing) directly to the theme of the Symposium, "People and the Land | He tangata, he whenua." Comprising singers from the Gondwana Indigenous Children's Choir, the Sydney Children's Choir and Gondwana Voices, Gondwana has established an international reputation for beautiful and imaginative choral performance. Its repertoire will include works commissioned by Gondwana, reflecting stories, language and events that have shaped the Australian continent and its people.
Read more about Gondwana here.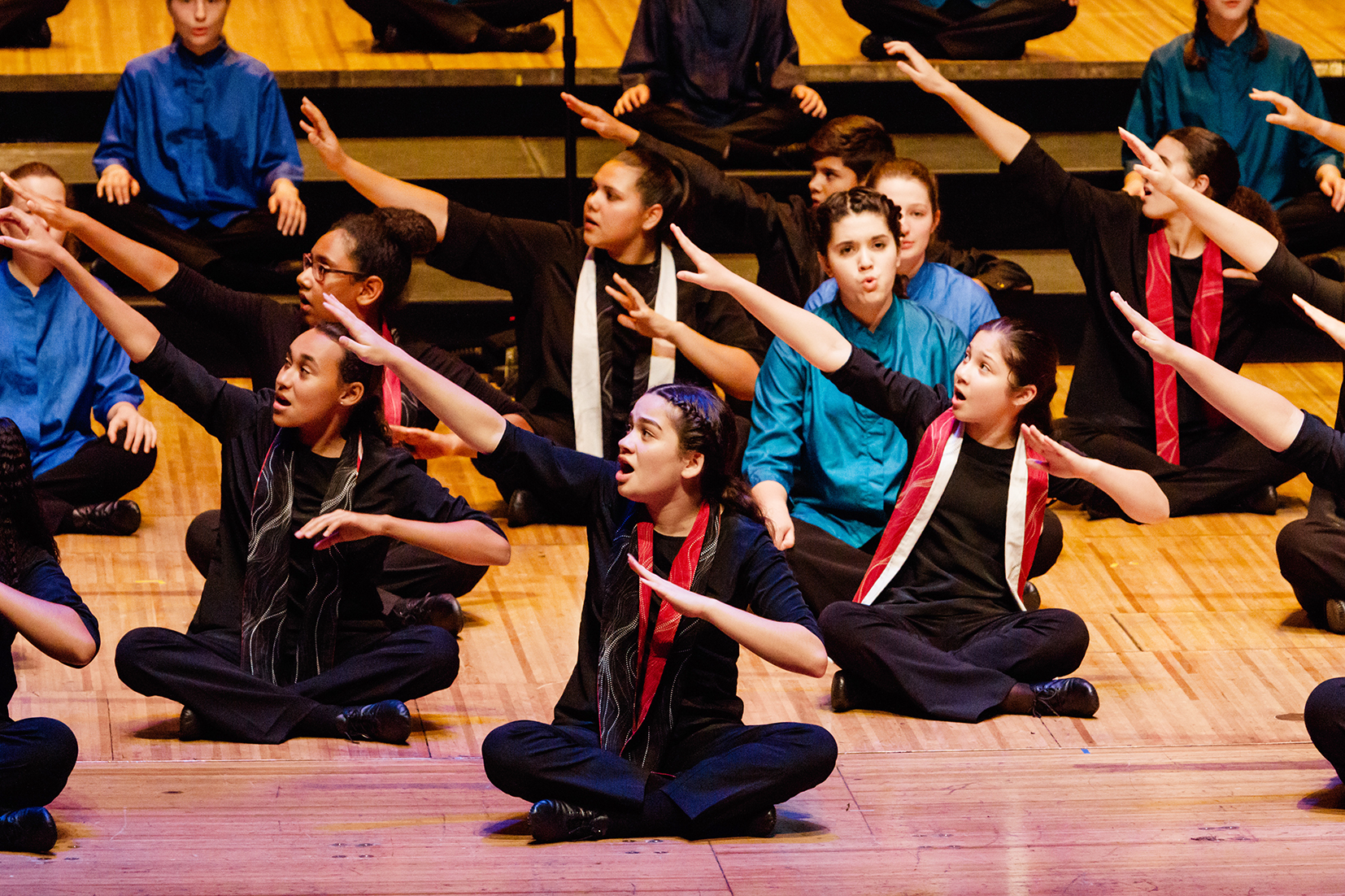 Get to know Norwegian Youth Choir and Nordic Voices
Artistic creativity, versatility and technical precision are the trademarks of Nordic Voices, a six-voice a cappella group that has been making waves not only in Norway but as far afield as South Africa, Taiwan, Bolivia and the USA.
For WSCM2020, this genre-defying ensemble will join forces with the celebrated Norwegian Youth Choir to explore the choral music of Norway, intertwined with musical elements from the indigenous cultures of Iran and Tibet.
Nordic Voices will also feature in Frank Havrøy's presentation.

Presenting the New Zealand Youth Choir
Said to be "one of the jewels in the choral crown of New Zealand" by conductor David Hamilton, the youth ensemble is dedicated to sharing music from Aotearoa and the greater South Pacific with audiences from across the globe.
The ensemble performs internationally and most recently won the Grand Prix at the 2016 IFAS in the Czech Republic and Choir of the World title at the Llangollen International Eisteddfod in Wales!
More info on the choir is here.

ADVANCE TICKET DEADLINE
Register before 31 December and you'll still be eligible for the Advance Ticket prices. Don't miss out on this final and not-to-be-repeated discount!
AUCKLAND ACCOMMODATION DEALS
WSCM2020 has secured a number of special delegate accommodation rates at several Auckland hotels for the July event. If you have any queries in regard to these offers or have a specific accommodation enquiry, please send them by email.