Learning Doesn't Stop -- Upcoming ECA-EC Webinar
We might not be able to sing together for the time being, but it doesn't mean we also need to stop learning. ECA-EC is really excited to introduce you to July's webinar: How to Audition for a National & International (Youth) Choir with Josep Villa i Casañas.
Auditions can be pretty daunting sometimes. We know that! There are many things you need to consider and prepare. No matter how many times you press that record button, it just doesn't seem good enough! Does this sound familiar? If so, join the webinar on 9 July 2020, at 11:00 CEST and learn from another perspective: What is expected from you? What can you do better? How do you make your audition stand out?
For more, see www.europeanchoralassociation.org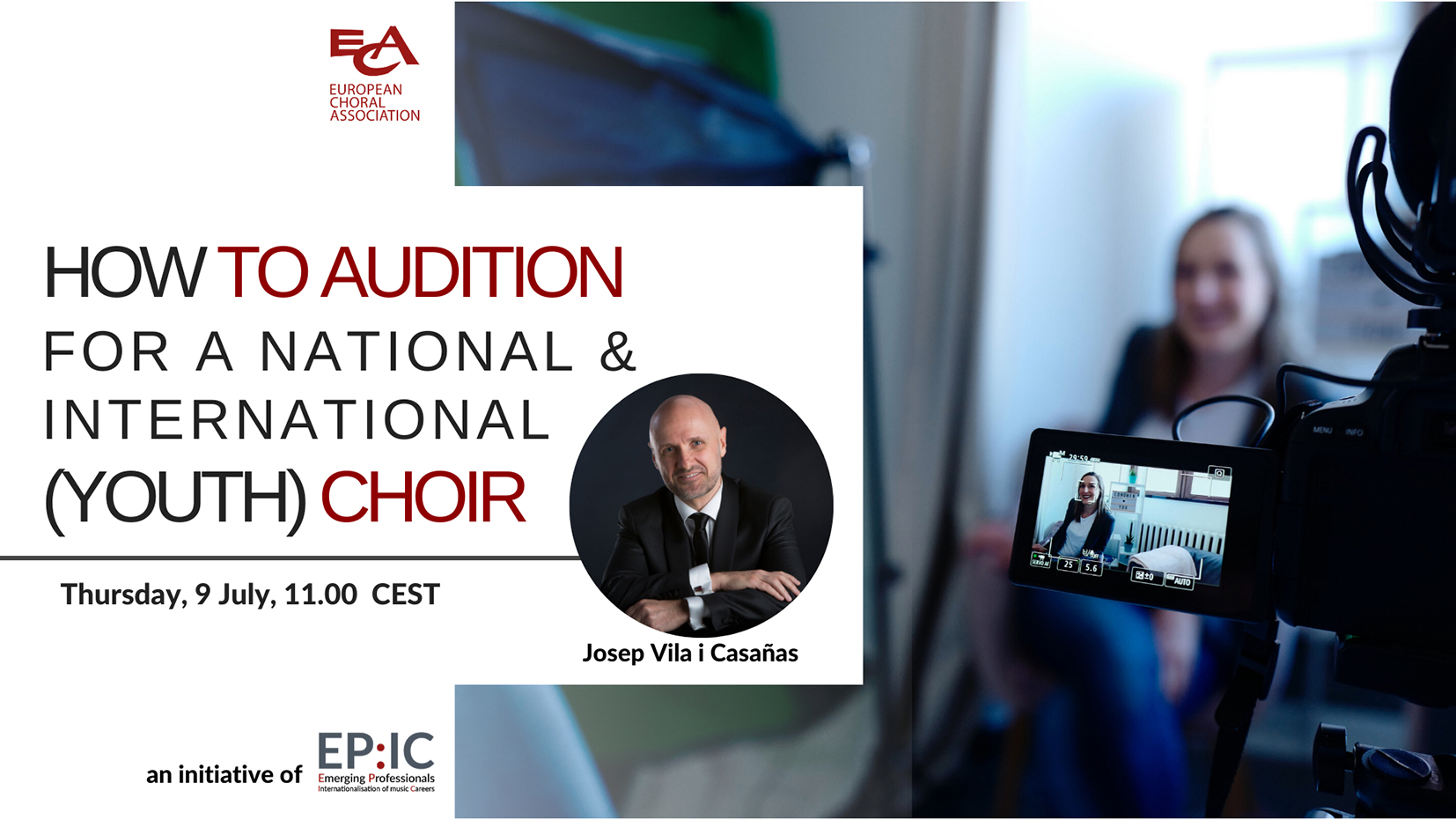 Supporting Initiative to Help the Choral World
Online platform: Digital Stage
The most common question on social media after the lockdown was: How can we do proper collective singing online? The answer was usually, "Singing together is not possible with the current programmes we are using due to latency issues and the fact that most of the existing programmes are speech optimized rather than music optimized."
ECA-EC has therefore decided to become partners with a new platform developed during a Hackathon in Germany - Digital Stage. The aim of this platform is to make it possible for the performing arts sector to rehearse and perform online during the Covid-19 crisis and beyond. The developers are still in the fundraising and testing phase, but it promises to become a tool we have all been looking for, with a low-access browser-based option being the most interesting one for the majority of choirs and vocal ensembles. Check the Digital Stage website for more information!
New US-based Covid-19 Study Supported by Performing Arts Organisations
You have probably been asking yourself: How safe is it to sing together? How can my choir eventually return to live rehearsals and performances? It has become clear that research is needed to provide decision-makers and choirs with answers that can help them plan their future. This is why a new US-based COVID-19 study has been launched, focusing on the effects of Covid-19 on the return to rehearsal rooms. Specifically, the study will examine aerosol rates produced by wind instrumentalists, vocalists, and even actors, and how quickly those aerosol rates accumulate in a space. As partners, ECA-EC will closely follow the process and help disseminate the results once they will be available.
Covid-19 Resources Document: consistently updated
We owe a big thank you to our whole network for contributing to ECA-EC's online Covid-19 Resource Document. The document is being constantly updated and new information, tips, and ideas are added on a daily basis by all of its readers. If you know of any resources we've missed, please add them! By having all of us contributing, we can help each other find the best ways to navigate forward, together!
For more, see www.europeanchoralassociation.org\covid-19