World Youth Choir
The World Youth Choir, a project of the ''Foundation World Youth Choir'' is a genuine educational and social experience drawing on many vocal traditions, aiming for the highest artistic level. By music education, professional artistic approach, multicultural social interaction and exchange the World Youth Choir unites 40 to 80 young choral singers age 18 to 30 from all over the world at projects organized in different countries each or every other year. Artistically, singers develop their musical talents by interacting with internationally renowned conductors performing choral music of various styles, time periods and the many genres of each continent at a professional level. The choir performs a cappella and also with distinguished youth or national orchestras, further expanding its message of artistic unity. Socially, and regardless of political or cultural differences, singers share up to a month of their lives together. They work, play, converse, and debate. Such communal living creates a genuine spirit of understanding, lifelong friendships, and a cohesive group with a unique bond. This is why UNESCO has awarded the World Youth Choir with the "Artist for Peace" title in 1996, recognizing its success as a platform for intercultural dialogue through music.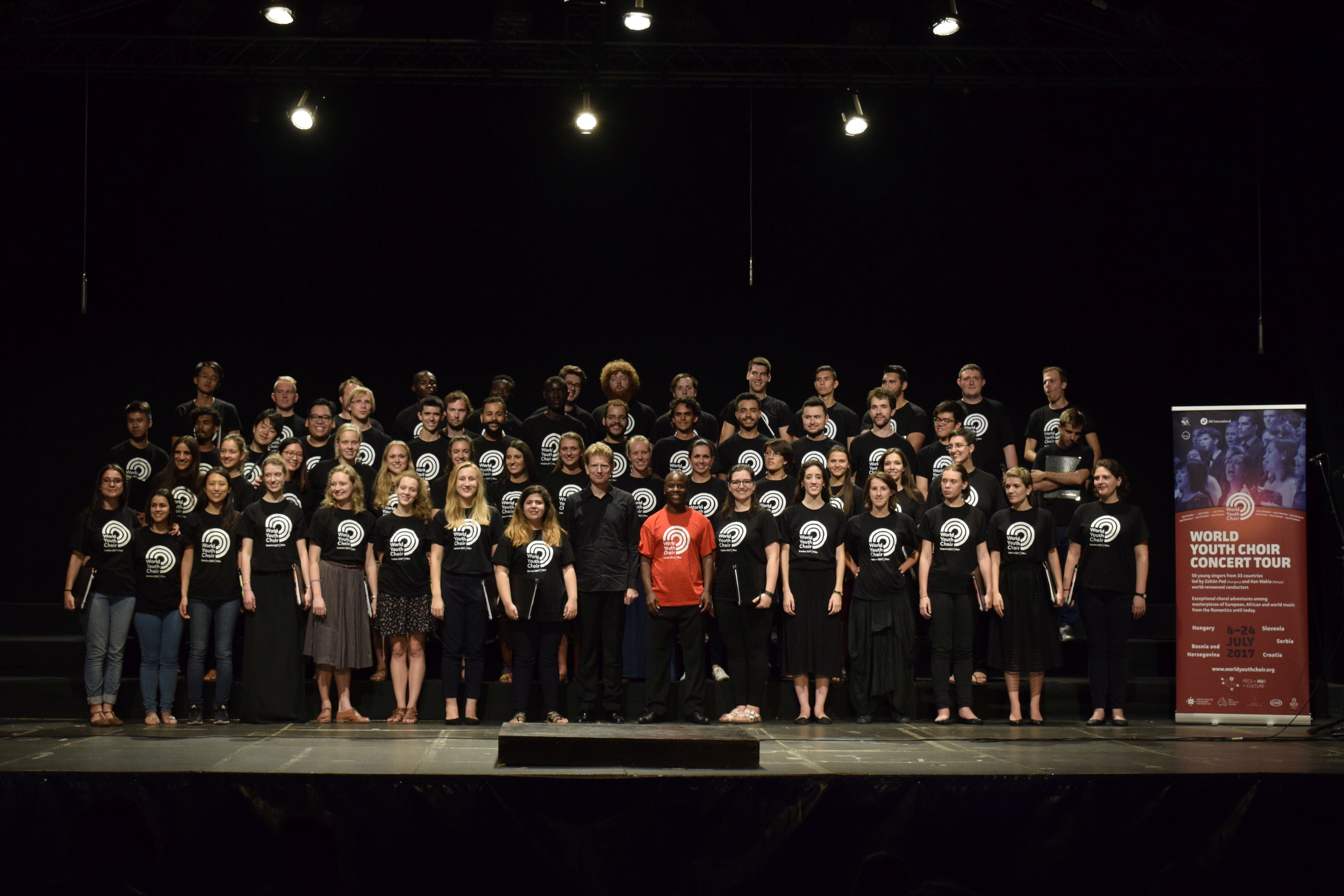 Original in its program
The WYC engages some of the world's most renowned choral conductors to rehearse intensively and prepare an ambitious concert program from various vocal and choral traditions and styles. The artistic responsibility lies with an international committee of eminent specialists appointed by the International Federation for Choral Music, Jeunesses Musicales International and Europa Cantat. Since its inception, the World Youth Choir has been directed by the following choral conductors: Anton Armstrong, Frieder Bernius, Filippo Maria Bresan, Michael Brewer, Peter Broadbent, Bob Chilcott, Peter Dijkstra, Peter Erdei, Eric Ericson (†), Gunnar Eriksson, Gary Graden, Georg Grün, Maria Guinand, Aharon Harlap, Florian Heyerick, Felipe Izcaray, Sidumo Jacobs, Robert Janssens, Tonu Kaljuste, Eric Klaas, Anthony Leach, Eduardo Mata (†), Albert McNeil, Denis Menier, Theodora Pavlovitch, Grete Pedersen, Johannes Prinz, Robert Shaw(†), Ole-Kristen Ruud, Fred Sjöberg, Stefan Sköld, Paul Smith, Robert Sund, Ward Swingle (†), Nobuaki Tanaka, Andre Thomas, Jonathan Velasco, Michele Weir, Hak Won Yoon, Steve Zegree (†), Johan Duijck, Ana Maria Raga, Ragnar Rasmussen, Josep Vila I Casanas, Cecilia Rydinger Alin, Ayis Ioannides, Ken Wakia, Zoltán Pad, and Helene Stureborg.
Patronized by
Jeunesses Musicales International: www.jmi.net
European Choral Association - Europa Cantat: www.eca-ec.org
International Federation for Choral Music IFCM
The last session in 2018 was held in Inner-Mongolia, China, with concerts at CICF in Beijing conducted by Helene Stureborg and Jonathan Velasco.
In 2019, to celebrate the 30th anniversary of the World Youth Choir (WYC), France will host the 2019 WYC Summer Session in the southern region of Occitanie, from July 15 to August 4, with a concert tour that will take the WYC at the World Choral Expo in Lisbon on July 29-31. The conductor of the World Youth Choir 2019 will be Josep Vila i Casañas.
In the Summer of 2020, the World Youth Choir will have a special session in the frame of the festivities of the Beethoven Anniversary Year, joining the National Youth Orchestra of Germany (Bundesjugendorchester) for a programme with Beethoven's 9th Symphony and a commission work by Tan Dun called Nine.
More info: